These Faculty Books Will Make Terrific Holiday Gifts
Fiction, nonfiction, memoir, history, archaeology, biography—we've got you covered with this diverse list of books.
December 13, 2022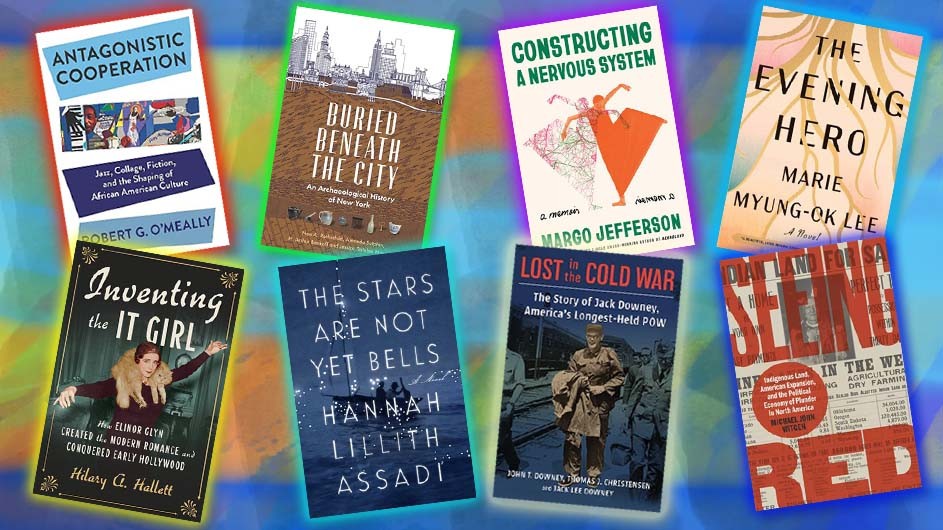 From Margo Jefferson's second memoir, Constructing a Nervous System, in which she examines her life against a backdrop of American cultural influences, to Nan Rothschild's Buried Beneath the City, an archaeological history of New York built on everyday artifacts; Michael Witgen's Seeing Red, an account of Native American persistence in the Great Lakes region; and The Stars Are Not Yet Bells, Hannah Assadi's novel that follows a woman from the Depression through the onset of Alzheimer's, Columbia faculty have published wide-ranging books in 2022. Here is a sampling, all of them great gift ideas for this holiday season.
---
The Stars Are Not Yet Bells
By Hannah Assadi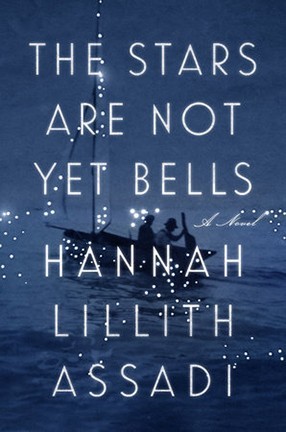 At the end of the Great Depression, Elle Ranier believes that by marrying a wealthy man, Simon, she is saving her life. Young and impressionable, she leaves New York City for the island of Lyra, off the coast of Georgia. There, Elle harbors a secret. Her so-called "cousin," Gabriel, who comes to stay, is really a boyfriend from back home—and the love of her life. Fifty years later, her memory clouded by Alzheimer's, Elle looks back at her life and tries to untangle it. Hannah Assadi, an adjunct writing professor at the School of the Arts who wrote The Stars Are Not Yet Bells, blends loss, memory, and the consequences of choices in this novel.
Read a Columbia News interview with Professor Assadi about the book.
---
Lost in the Cold War
By Thomas Christensen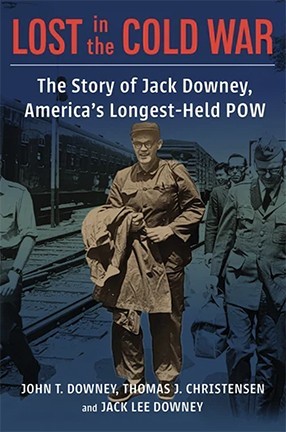 In 1952, John T. "Jack" Downey, a 23-year-old CIA officer, was shot down over Manchuria during the Korean War. The pilots died in the crash, but Downey and his partner, Richard Fecteau, were captured by the Chinese. For the next 20 years, they were interrogated, put through show trials, held in solitary confinement, placed in reeducation camps, and toured around China as political pawns. Other prisoners of war came and went, but Downey and Fecteau's release hinged on the U.S. acknowledging their status as CIA assets. Not until Nixon's 1971 visit to China did Sino-American relations thaw enough to secure Fecteau's release, also in 1971, and Downey's in 1973. Lost in the Cold War is the story of Downey's decades as a prisoner of war and the efforts to bring him home. His memoir is interspersed with chapters by Thomas Christensen, the James T. Shotwell Professor of International Relations at Columbia SIPA, and an expert on Sino-American relations, who explores the international politics of the Cold War, and tells the story of how Downey and Fecteau's families, the CIA, the U.S. State Department, and successive presidential administrations worked to secure their release.
Read a Columbia News interview with Professor Christensen about the book.
---
La Nijinska
By Lynn Garafola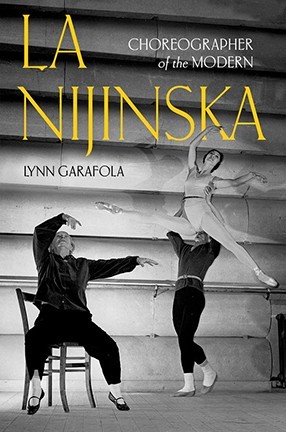 Overshadowed by her brother, dancer and choreographer Vaslav Nijinsky (1889-1950), Bronislava Nijinska had a far longer and more productive career, also as a choreographer and dancer. A creator of 20th-century neoclassicism, she produced her greatest work, Les Noces, under the influence of the Russian Revolution's avant-garde. Many of her ballets rested on the probing of gender boundaries, a mistrust of conventional gender roles, and the heightening of the ballerina's technical and artistic prowess. She worked with leading figures of 20th-century art, music, and ballet, including Igor Stravinsky, Sergei Diaghilev, Natalia Goncharova, Frederick Ashton, and Maria Tallchief. In La Nijinska: Choreographer of the Modern, the first biography of her, Lynn Garafola, professor emerita of dance at Barnard, sheds new light on Nijinska's career, and on the history of ballet and modernism. The book also reveals the sexism pervasive in the upper echelons of the early-and-mid-20th-century ballet world, barriers that women choreographers still confront today.
Read a Columbia News interview with Professor Garafola about the book.
---
Inventing the It Girl
By Hilary Hallett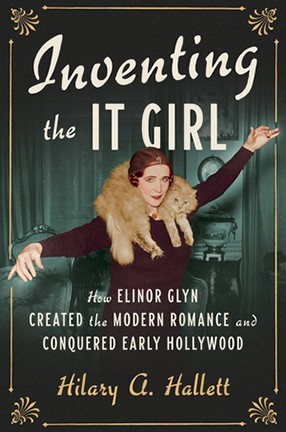 Unlike typical romances, which end with wedding bells, the story of Elinor Glyn (1864–1943) began after her marriage foundered. Like most Victorian women, she aspired only to a good match. But when her husband, Clayton Glyn, gambled their fortune away, she turned to writing, and boldly challenged the era's sexually straightjacketed literary code with her notorious bestseller, Three Weeks (1907), an erotic tale about an unhappily married woman's sexual education of her young lover. In Inventing the It Girl: How Elinor Glyn Created the Modern Romance and Conquered Early Hollywood, Hilary Hallett, professor of history and Mendelson Family Professor of American Studies, traces Glyn's meteoric rise from a depressed British society darling to a renowned celebrity author who consorted with world leaders from St. Petersburg to Cairo to New York; reported from the trenches during World War I; and ended up in Los Angeles during the 1920s, where she became a successful screenwriter and director, and coined the term "It Girl."
Read a Columbia News interview with Professor Hallett about the book.
---
Constructing a Nervous System
By Margo Jefferson
In Constructing a Nervous System, School of the Arts Professor Margo Jefferson, who teaches in the school's Writing Program, shatters herself into pieces and recombines them. She fuses the criticism that she is known for, fragments of the family members she grieves for, and signal moments from her life, as well as the words of those who have peopled her past and accompanied her in her solitude. Included are Bing Crosby and Ike Turner, the sounds of a jazz record, W.E.B. Du Bois and George Eliot, the muscles and movements of a ballerina and those of an Olympic runner. The result is a work defined by fractures and dissonance, and a persistent searching. Jefferson interrogates her own self as well as the act of writing memoir, and probes the fissures at the center of American cultural life.
Read a Columbia News interview with Professor Jefferson about the book.
---
The Evening Hero
By Marie Myung-Ok Lee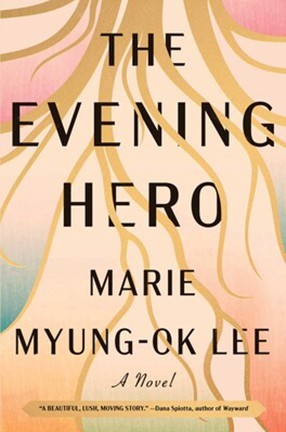 The Evening Hero, by Marie Myung-Ok Lee, writer-in-residence at the Center for the Study of Ethnicity and Race, and an instructor in the Undergraduate Writing Program, is a novel that follows the life of a Korean immigrant, Dr. Yungman Kwak, by moving back and forth between the past and the present. For the last 50 years, Kwak has worked at Horse Breath's General Hospital, where, as an obstetrician, he treats the women and babies of his small, rural Minnesota town. He arrived in America after the Korean War, forced to leave behind his family, ancestors, and village. But his life is built on a lie, and one day, a letter arrives that threatens to expose it. Yungman's existence is thrown into chaos, as he begins to question the assumptions on which his life is built—the so-called American dream, with the abject failure of its health-care system, patients and neighbors who perpetuate racism, and a flawed town.
Read a Columbia News interview with Marie Myung-Ok Lee about the book.
---
Antagonistic Cooperation
By Robert O'Meally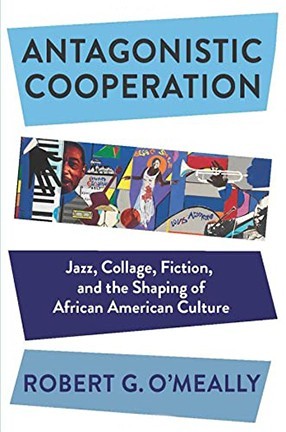 Ralph Ellison famously characterized ensemble jazz improvisation as "antagonistic cooperation." Both collaborative and competitive, musicians play with and against one another to create art and community. In his new book, Antagonistic Cooperation: Jazz, Collage, Fiction, and the Shaping of African American Culture, Robert O'Meally, Zora Neale Hurston Professor of English and Comparative Literature, shows how this idea runs throughout 20th-century African American culture to provide a new history of Black creativity and aesthetics. From the collages of Romare Bearden and the paintings of Jean-Michel Basquiat, to the fiction of Ralph Ellison and Toni Morrison, and the music of Louis Armstrong and Duke Ellington, O'Meally explores how the worlds of African American jazz, art, and literature have informed one another. He argues that these artists drew on the improvisatory nature of jazz and the techniques of collage not as a way to depict a fractured or broken sense of Blackness, but rather to see the Black self as beautifully layered and complex.
Read a Columbia News interview with Professor O'Meally about the book.
---
Buried Beneath the City
By Nan Rothschild, Amanda Sutphin, H. Arthur Bankoff, and Jessica Striebel MacLean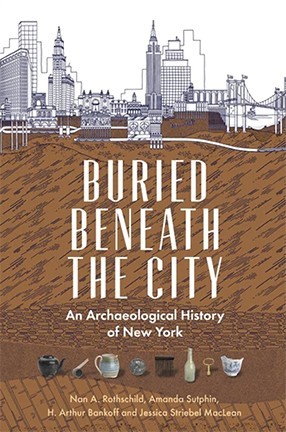 Bits and pieces of the lives led long before the age of skyscrapers are scattered throughout New York City, found in backyards, construction sites, and parks—indigenous tools used thousands of years ago, wine jugs from a 17th-century tavern, raspberry seeds sown in Brooklyn gardens. Buried Beneath the City: An Archaeological History of New York by Nan Rothschild, professor emerita of anthropology; Amanda Sutphin; H. Arthur Bankoff; and Jessica Striebel MacLean uses urban archaeology to retell the history of the city, from the deeper layers of the past to the topsoil of recent events. The book explores the ever-evolving city and the day-to-day world of its residents through artifacts, starting with the first traces of societies more than 10,000 years ago to the detritus of Dutch and English colonization and the burgeoning city's transformation into a modern metropolis.
Read a Columbia News interview with Professor Rothschild about the book.
---
Seeing Red
By Michael Witgen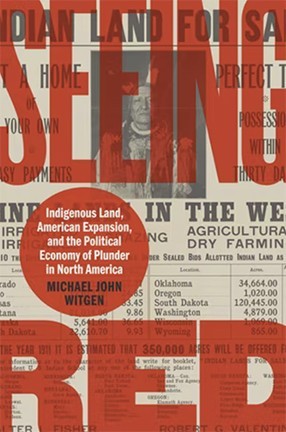 Against long odds, the Anishinaabeg, a group of culturally related Indigenous peoples in the Great Lakes region of the U.S. and Canada, resisted removal, retaining thousands of acres of their homeland in what is now Michigan, Wisconsin, and Minnesota. Their success rested partly on their roles as sellers of natural resources, and buyers of trade goods, which made them key players in the political economy of plunder that drove white settlement and U.S. development in the region. But, as History Professor Michael Witgen demonstrates in his new book, Seeing Red, the credit for Native persistence rested with the Anishinaabeg themselves. Outnumbering white settlers well into the 19th century, they leveraged their political savvy to advance a dual citizenship that enabled mixed-race tribal members to lay claim to a place in U.S. civil society. Telling the stories of mixed-race traders and missionaries, tribal leaders and territorial governors, Witgen—a citizen of the Red Cliff Band of Lake Superior Ojibwe—challenges our assumptions about the inevitability of U.S. expansion. 
Read a Columbia News interview with Professor Witgen about the book.
---